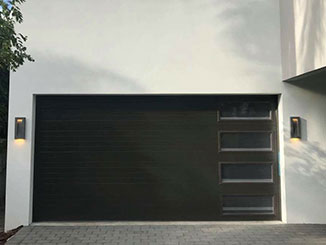 Choosing a garage door that will work well with the design and layout of your home is not an easy job. There are many things to consider. Style, material, opener type, budget, and level of insulation will all likely play a part in the decision.
Things to Consider
Style & Material

You'll want to consider which style of door is most likely to compliment your home. If you have a contemporary home, a traditional style door may look out of place, however attractive. There are no rules to follow other than your personal taste when it comes to choosing the right style for you!

The material you choose, however, may be more impacted by the amount of maintenance you're willing to undertake and the weather conditions where you live. For example, wooden garage doors are particularly susceptible to moisture and will likely require more maintenance attention over time than steel.

Garage Door Openers

When choosing a new door, it will also be necessary for you to determine which type of opener system you wish to use. For silent operation, a belt drive is likely to be the best option; chain drives are usually the noisiest while screw drives represent a middle ground in terms of noise and budget, while also requiring fairly little in the way of maintenance due to the limited amount of moving parts.


Door Insulation Options

For attached garage owners, high-energy bills can definitely highlight the need for effective door insulation - this can be a common culprit for energy escape in a home. The level of insulation you wish to have may also feed into your choice of material as some come with naturally more insulating properties - we can advise you more of your options in this regard.
Making a Final Decision
Before reaching a final decision, we always recommend consulting with an expert first to ensure everything lines up. Our team have successfully helped homeowners across Oakland to choose the right door for them and looked after the complete installation process from start to finish.