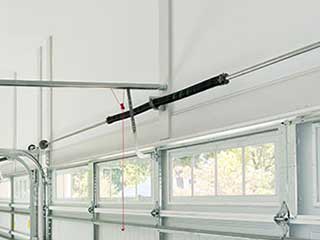 The opener has a very important role, but as valuable as it is and as convenient as it can make your daily routine, your garage door can work without it. Not automatically, of course, but it is still possible to operate it manually even if something wrong with the motor unit. However, without the springs, your door will be completely inoperable, which means that if these components are having any issues, you need to have them serviced as quickly as possible.
There Are Two Types
The type of garage door springs you use will be determined by several factors, mainly headroom and backroom space availability and the type of door you have. Extension springs are thinner and are always installed in pairs, with one set up on each side of the door, running parallel to the horizontal tracks. They work by stretching and extending, which means they won't last as long as their counterparts. Torsion springs are bulkier and stronger. They are installed across a metal shaft just above the door. They work by twisting and unwinding, and can (with proper maintenance) last twice as long as their extension-based counterparts.
Emergency Spring Repair
When this type of component breaks, your door will most likely be inoperable, as it relies on its springs to support and counterbalance its weight. Replacing a broken spring can be very dangerous without the required technical skills and professional training, so you should always let experts handle this type of project rather than try to complete it yourself.
We'll Be Happy To Help
Whether you're looking for professional spring adjustment or for emergency replacement, you can count on our team at Garage Door Repair Oakland to provide the help you need when you need it. We maintain a same day service policy, and our experts are experienced in fixing all types of problems these units can experience. Call us today.
Want more? Let us take care of:

Broken Cable Replacement

Extension Spring Adjustment

Garage Door Safety Inspections

Genie Garage Door Opener Services