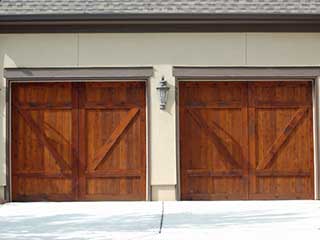 No one can deny the beauty of natural wood - once it was the only choice for the construction of garage doors. Today though, many materials have entered the market, raising questions about the success of natural wood for this purpose. When compared to other material choices, there are definite differences to bear in mind. The point is, whether or not timber prevails over materials like aluminum overhead doors and why. We dive into this below!
Wood - The Downsides
The truth is that other materials may be stronger than wood in terms of durability, depending on your environment. We run through some of the common properties we know about garage doors made from pure timber below.
High Level Of Maintenance Need
Wood reacts to elements and can warp if it is not treated properly and frequently. High levels of moisture can also create mold and ruin the material extensively.
Insulation, Cost & Environment
Wooden garage doors are usually more pricey than other materials. What you spend here doesn't really save you anything in time or money when it comes to maintenance. Further, although wood is a natural insulator, a door made completely from wood will rarely exceed r-4 rates which isn't really efficient for environments that get really cold. Lastly, there is the obvious environmental cost - many ecologists would usually refrain from opting for wood unless recycled.
Don't Be Put Off - It's Not A Lost Cause!
At first glance, wood might not seem like the perfect option. But nowadays things are a tad different. These days, actually, wood is mostly made from timber waste and composite lumber, meaning you don't actually have to worry about turning your back on your ecological consciousness. In addition, wood is being elaborated all the time, it is now possible to opt for the best of both worlds in terms of durability by opting for a steel/wood composite - it can look like wood but maintain the sturdy attributes of steel!
Further, there are many types of undercoat and specific powder coat finishes available today to ensure your wooden door is as resistant to the elements as it can be. All in all, wooden doors today, can be strong, heavy and sturdy - plus they can be personalized to your tastes and designs.
Further Questions About Wooden Garage Doors?
Just give our repair experts a call at Oakland, California - we'll be glad to discuss this subject in more detail with you!