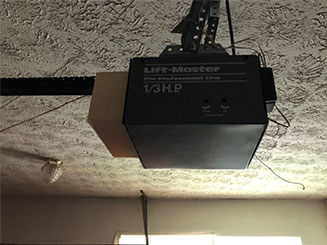 An automatic opener can make your daily routine incredibly convenient. It can also significantly improve the security aspect of your home. However, when it malfunctions, it will make things a lot more inconvenient for you, and will potentially allow burglars to get into your home more easily. That's why you need to contact our team as soon as you discover a problem with your motor unit.
Motor Related Problems
You may discover that your opener is making strange noises but is unable to move your door. This could be the result of a problem with the motor gear. This type of issue will usually mean that the gear had been damaged or wore out, which means it will need to be replaced. Our technicians know exactly how to carry out this type of work, and we'll make sure your opener returns to its' functional state as quickly as possible.
Misaligned Safety Sensors
If your door starts to reverse when you try to close it, more often than not, the problem involves the opener's photo eyes. These sensors are in charge of preventing accidents, and they do so by alerting the opener when an obstacle is blocking the door's path. If these components aren't aligned correctly, however, they can falsely detect an obstacle, which will prevent the door from closing. These are delicate units, and realigning them requires careful skill. You'll definitely want to reach out to our team when something like this happens.
A Solution To Every Problem
Whether your circuit board is malfunctioning or some other part like the trolley or the drive system needs to be fixed, give our team a call. Our experts at Garage Door Repair Oakland can handle any issue, big or small. If you're looking to have a new opener installed, we'll be happy to guide you through the different choices and help you make an informed decision.
We also take care of:

Opener Clicker Repair

Roll Up Garage Door Services

Garage Door Safety Inspections

Garage Door Cable Replacement