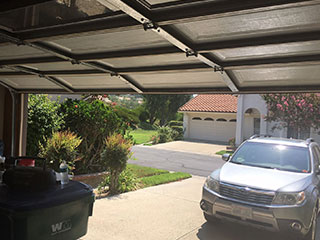 Some malfunctions can be unavoidable. That's unfortunately the case with many mechanical system, especially one as complex as your automatic garage door. However, the good news is that you can avoid all sorts of issues by ensuring the machine receives regular maintenance. Here are some of the things our team offers.
Safe Spring Adjustment
These components are probably the hardest working parts of the entire mechanism. The reason for this is because they don't just support the weight of the panels, they also provide the counterbalance needed to help the door move. Your opener isn't the one doing that, contrary to popular belief. To make sure the door stays balanced, the springs need to be adjusted from time to time, as their tension will weaken gradually. This helps them last longer, as it lessens some of the strain they are under. Because these components are still quite dangerous, this type of task should only be performed by a professional technician.
Safety Mechanism Testing
Your garage door opener can be an invaluable part of your daily routine, as without it you'd have to do everything manually, and who has the time or the motivation for that, really? In order to make sure the device is safe for you to use, the safety sensor's alignment and the auto-reverse mechanism function need to be tested. Our team will do that as part of our maintenance service, and we'll adjust the settings of these crucial features if we find that they're less than optimal.
Increasing Smoothness and Efficiency
Another aspect of our garage door maintenance service is a complete examination of all the hardware parts, from the panels to the tracks. We will carry out minor repairs if we discover that any dents or misaligned has occurred, and we will also lubricate the moving metal parts, like the rollers and the hinges, in order to make sure your door can move as quietly and smoothly as possible.
It's All About Preventive Measures
No one wants to have to deal with problems, which is why it's important to do what we can to mitigate and prevent them. Contact Garage Door Repair Oakland today to schedule a maintenance appointment.